The Trade Accelerator Program (TAP) is an innovative, hands-on, four-day workshop designed to accelerate the strategic development of small to medium-sized businesses. TAP provides the essential knowledge, resources, and coaching to develop and execute an export plan to prepare you for expansion to international markets.
Companies applying for TAP should be able to:
Demonstrate proof of operation for at least 2 years
Confirm revenue for their product, service or technology
Provide an exportable product, service or technology with a strong competitive advantage as a result of quality or patent protection
Identify exploratory steps already taken to expand exports into new markets
Identify as a good corporate citizen, devoid of corruption, environmental and human rights violations
Dedicate two senior representatives to participate in the program and apply its resources
If your business does not meet one or some of the above guidelines, please submit your application and then reach out to us at tapsask@sasktrade.sk.ca.
The next multi-sector cohort will take place in Winter 2024. Apply now to participate!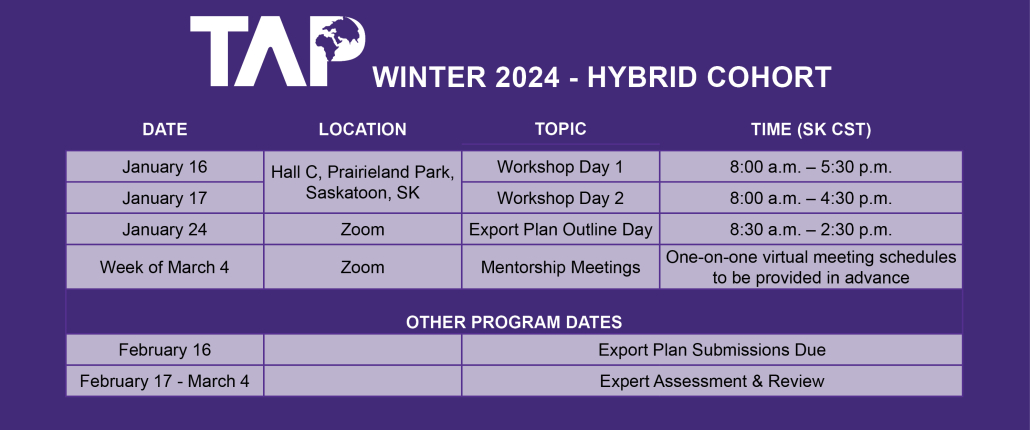 To learn more about the Trade Accelerator Program, watch this video or contact tapsask@sasktrade.sk.ca.
The Saskatchewan Trade Accelerator Program is graciously supported by the Mobilizing SMEs to Export initiative to assist in delivering Canada's Export Diversification Strategy.
Success Stories — Celebrating achievements both big and small.
Discover the TAP Advantage from Team Power Solutions!
"Through the TAP program, we were introduced to programs and services available to us which has been significant for our new business. Thank you for the work from the STEP team for helping with our business growth."
Tamara Hildebrant
General Manager, KBI Seed Processing
"As a recent graduate of the Trade Accelerator Program (TAP) Canada, the program definitely allowed us to refine our business focus. A key factor for our organization was the guidance and direction received through the program as well the opportunity to get some crucial questions answered. Our participation in the program is going to pay dividends as we expand our business reach into European markets."
Lucas Olenick
Marketing and Product Coordinator, Wilger Industries Ltd.
"Growing a business requires continual refinement. The TAP process has been instrumental in our continual development of items like our value preposition. I anticipate that we will put much of what we learn to work right away, whether it manifests itself in export opportunities or not."
Shawn Moen
CEO, 9 Mile Legacy Brewing Co., Ltd.
The Trace Accelerator Program has been funded in part by Innovation, Science and Economic Development.